True followers "give the reason for the hope that you have. But do this with gentleness and respect…" 1 Peter 3:15
This is just awesome… May we live it!
CNN Belief Blog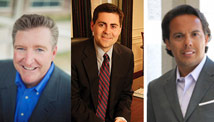 Editor's note: Jim Daly is president of Focus on the Family, Dr. Russell Moore is dean of the School of Theology at the Southern Baptist Theological Seminary, and the Rev. Samuel Rodriguez is president of the National Hispanic Christian Leadership Conference.
By Jim Daly, Russell D. Moore and Samuel Rodriguez, Special to CNN
(CNN) – We've all heard it, since we were schoolkids knocking about on the playground: "Sticks and stones will break my bones, but names will never hurt me." A saying with good intent, to be sure, designed to steel young minds, and hearts, against the inevitable bruises that come with sharing childhood and adolescence with other children and adolescents.
But did any of us ever believe it was true? Even today – now that we're older, hopefully wiser, having experienced the heartaches of everyday life more fully than we may have as kids – is…
View original post 624 more words