Do we really need another show like this? What do you think about how Christians are portrayed on television? If you're generally pleased with it, I'd love to hear from you. If you are unhappy with the image of Christians in the media, I'd also love to hear. Do Christians deserve this kind of "coverage" because too many are hypocritical? Or, is this an example of mild persecution that Peter reminded us to be ready to handle with grace? Why not take a quick moment are respond with a comment?
CNN Belief Blog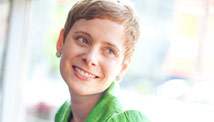 Editor's Note:Margaret Feinberg is an international speaker and author of "Scouting the Divine" and "The Sacred Echo." Follow her on Twitter.
By Margaret Feinberg, Special to CNN
Originally dubbed "Good Christian Bitches" after the book by Kim Gatlin, a television series that debuted on ABC on Sunday night had its name changed to "Good Christian Belles" before being shortened to "GCB." Whatever meaning you assign to those three letters, the show portrays Christians as caricatures and feels a little desperate.
The show serves up predictable night-time soapy-ness that's lured audiences for years. The only difference is that instead of an emergency room, GCB serves it up Texas-style, in the buckle of the Bible Belt, complete with more Scripture ripped out of context than most churchgoers can keep count.
View original post 535 more words